Creating a great circle
Use the Great Circle tool to place a great circle object over the drawing. Unlike a 2D dimension that shows the linear distance between X and Y coordinates in 2D, a great circle is an arc that shows the shortest distance between two points on the sphere-shaped Earth. Use the Great Circle tool (instead of a 2D dimension tool) to measure distances in a georeferenced drawing.
The Document Georeferencing dialog box opens if the document is not yet georeferenced, to select a coordinate system. See Specifying document georeferencing.
To create a great circle:
1. Click the tool and mode, and then click Preferences.
The Great Circle Properties dialog box opens.

Click to show/hide the parameters.
2. Click the drawing at the beginning point of the great circle, and click again at the ending point to create the object.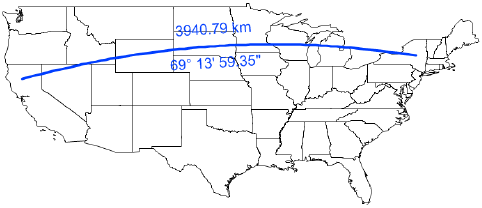 ~~~~~~~~~~~~~~~~~~~~~~~~~