Creating or editing saved views using the saved views menu
The View bar has shortcuts to save a view, to edit a saved view, or to switch the current drawing area view to a previously saved view.
Views can also be accessed through the Saved Views palette. Select Window > Script Palettes > Saved Views. Double-click the view name to switch to that view.
To use the Saved Views menu:
1. Click the Saved Views menu from the View bar.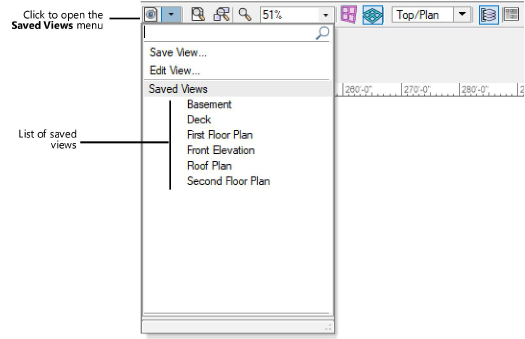 2. Select the desired item from the menu.
| | |
| --- | --- |
| Menu Item | Description |
| Save View | Opens the Save View dialog box |
| Edit View | Opens the Saved Views tab of the Organization dialog box |
| List of saved views | Select a saved view from the list to switch to that view |
~~~~~~~~~~~~~~~~~~~~~~~~~