Hoist tools
The hoist tools in the Vectorworks Spotlight program assist with the design and documentation of overhead stage rigging equipment. Hoists are placed in a drawing that normally already contains lighting, staging, audio equipment, and the loads that will hang from the hoists. In addition, hoists can be used in conjunction with Braceworks rigging drawings and calculations. A suite of tools and commands assists you with creating all the diagrams and paperwork needed for rigging work.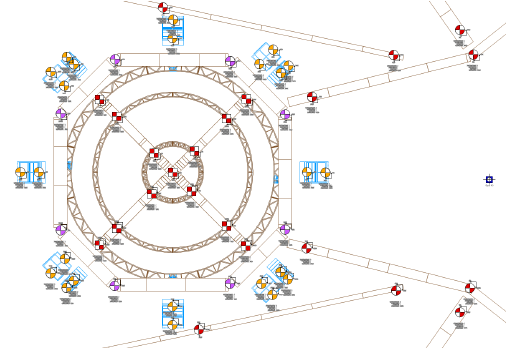 Workflow:

Hoists

Hoists are used to suspend the rigging from the venue's supports. Create the venue design, including the house rigging points or structural members. Place the required rigging and equipment such as trusses, loads, and stage pieces. See Creating a venue file.

Optional: Use the Convert Old Hoists command to convert any hoist objects created prior to Vectorworks 2021, for improved performance.

Click the Hoist tool, and select a hoist symbol to insert. Apply automatic numbering so the hoists can be identified in labels and reports.

Click to attach the hoist to a rigging object, structural member, or house rigging point. When inserted on a house rigging point, a hoist can automatically connect with a truss below that point.

To change the type of hoist, click Select Symbol on the Object Info palette, and select a different hoist symbol.

Click Select Pick-up Symbol on the Object Info palette to specify how the hoist connects to the truss.

Basic hoist labels are provided by default. Use the Data Tag tool to add a data tag that displays measurement information or structural calculation results (Braceworks required).

Optional: Use the Hoist Origin tool to create a custom reference point for the hoist.

Click in the drawing to place the origin. If needed, click Select Symbol on the Object Info palette to select a different symbol for the hoist origin.

Assign the origin to the hoist by specifying the Origin on the hoist Object Info palette.

Calculate the forces applied to the rigging system (Braceworks required). Make changes to the system as needed.

It is recommended that you run calculations throughout the design process (Braceworks required), to check for errors and adjust the design.

Create the hoist paperwork.

Use the Create Hoist Report command to create lists of hoist data and measurements, and export them as worksheets, .csv files, or .pdf files.

Use the Create Report command to create a pre-defined database worksheet, which can be exported to Excel with the Export Worksheet command.