The Home screen
The Home screen, an independent, resizable window that opens over the application, provides a single point of access to a variety of files, videos, and other resources for learning and using Vectorworks. Depending on your Vectorworks preferences and how you launch the program, the Home screen may open automatically on startup; see Vectorworks preferences: Session pane.
To open the Home screen at any time, do one of the following:
Click the Home screen icon 

 on the top right corner of the Title bar (Mac) or Menu bar (Windows).
Select Help > Home Screen.
The Home screen automatically opens to the Home pane.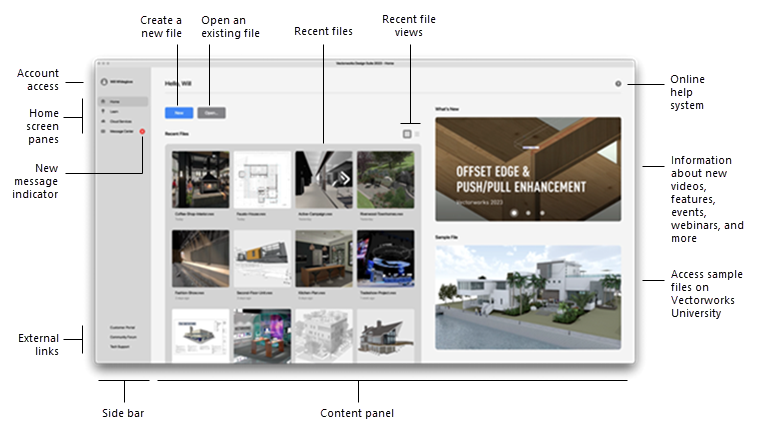 The four panes described below are accessed from the side bar, as are your account information and external links to the Vectorworks Customer Portal, Community Forum, and Technical Support website.
Some panes, information, and links are unavailable if you are not signed in or not connected to the internet. The Home Screen needs to connect to the internet at least once to display the contents.
Pane
Contents

Home

Open new or existing files, including recent files

Access new demonstration videos and sample files on Vectorworks University 

Learn

Access Vectorworks University for online training, new features videos, and certification courses

View the upcoming events calendar and register to attend webinars and other events

Open the Vectorworks online help system

Cloud Services

Access your files on Vectorworks Cloud Services

Learn how Cloud Services can help with collaboration, processing and storing large files, sharing presentations and virtual walkthroughs with clients, and more 

Message Center

Retrieve new messages and set preferences
The Home screen window automatically closes when you open a file from the Home pane, or by dragging and dropping a file onto the Vectorworks icon on the dock (Mac) or onto any part of the Home screen (Windows). You can also resize the Home screen, move it, or click the window's close box to close the Home screen at any time. You cannot use Vectorworks while the Home screen is open.