Setting Quick Preferences
The most commonly used Vectorworks, document, and interactive preferences are available for access from buttons on the Tool bar. Other commonly used settings, such as those for the clip cube, are similarly available. The Quick Preferences menu controls which buttons display on the Tool bar. The Data Bar and Edit Group Options list and the Zoom Line Thickness, Default 3D Render Mode, and Default 3D Projection preferences are enabled by default on the Quick Preferences menu.
Select the desired item to display its shortcut button on the Tool bar, if it is not already present. A check mark to the left of an item indicates that it is selected. Buttons display in the order the item was selected, so the first selected item displays the furthest left on the Tool bar. If the application window is resized, the Tool bar will truncate the display of buttons when necessary and replace them with ellipses on the right.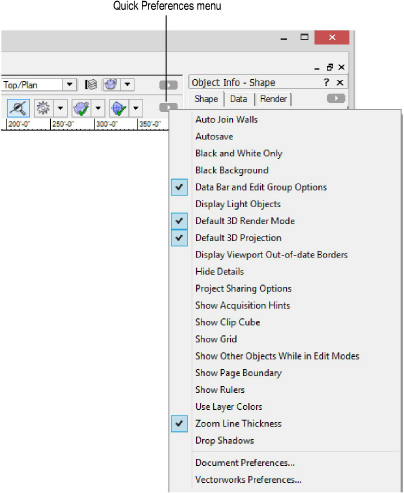 ~~~~~~~~~~~~~~~~~~~~~~~~~