Managing lights and cameras with the Visualization palette
Command

Path

Shortcut

Visualization

Windows > Palettes

● Ctrl+Shift+Alt+V (Windows)

● Cmd+Shift+Option+V (Mac)
The Visualization palette provides fast and easy access to all lights and cameras in a Vectorworks file, including animation path objects. Lights and cameras can be selected, edited, duplicated, created, and deleted. The palette also controls lighting overrides for selected sheet layer viewports, without modifying the lighting on the design layer or in another viewport.
Tasks that can be performed from the Visualization palette include:
● Quickly locating any light or camera in the file
● Turning lights on and off
● Editing any light or lights in the file, even lights that are inside a container object or on a different layer
● Creating lighting overrides for sheet layer viewports
● Managing light and camera objects, including creating, editing, deleting, duplicating, and sorting
● Quickly activating/deactivating a camera or changing the view of a non-active camera
● Turning heliodon objects on or off to conduct sun studies (Vectorworks Design Series required)
To use the Visualization palette:
1. Select the command.
The Visualization palette opens. The Visualization palette can remain open while you work in the drawing.
2. The Visualization palette contains two tabs: the Lights tab accesses lights, and the Cameras tab accesses cameras. The lights and cameras can be sorted by clicking in the header of any column.
The Lights tab functions in two different modes depending on whether you are on a design layer or sheet layer.
● On a design layer, the palette lists either all the lights in the file, or just the lights that affect the current view.
● On a sheet layer, the palette lists either all the lights in the file, or just the lights of selected viewports; edits to the selected viewports affect the viewport lighting, creating an override, but this does not affect the associated design layer lighting.
Depending on what action is being performed, different options are available in both the Visualization palette and the Visualization palette menu. To open the Visualization palette menu, click the small triangle at the top right of the palette, or right-click in the palette to open a context menu.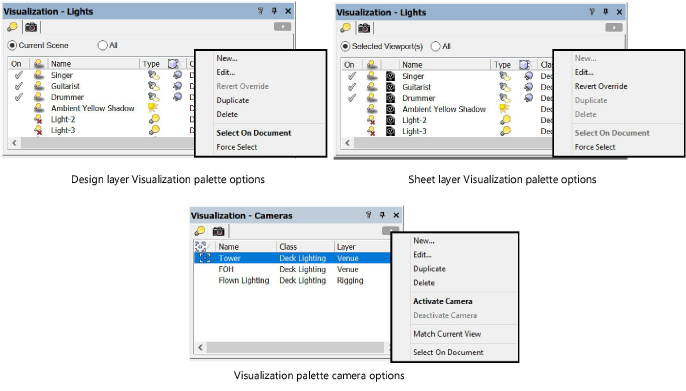 Click to show/hide the parameters.
| | |
| --- | --- |
|   | Click here for a video tip about this topic (internet access required). |
~~~~~~~~~~~~~~~~~~~~~~~~~