Resource Manager: File browser pane
Files and file libraries
The file browser pane lists open files, favorite files, and various library files from which you can access resources. The Open Files group always displays. Use the buttons on the palette tool bar to show or hide the other file groups.
Group

Description

Open Files

Lists all currently open files

Favorites

Lists all files that you have designated as favorites from the Resource Manager

Service Select Libraries

Lists online content exclusively available to Vectorworks Service Select members

Vectorworks Libraries

Lists libraries installed or available for download with the Vectorworks program

User Libraries

Lists libraries you place in your User Data and Preferences folder; see Vectorworks preferences: User Folders tab

Workgroup Libraries

(Design Series required)

Lists libraries placed in your Workgroup and Project folders; see Sharing custom content using workgroup folders
To quickly expand or collapse a group, click the disclosure arrow next to the group name, or double-click the group heading. To expand or collapse all groups, press the Alt key (Windows) or Option key (Mac) while you click one of the group headings.
Drag the group headings up or down to change the order of the groups. The files in each group are always listed in alphabetical order.
File options and file browser menus
The file options menu on the palette tool bar and the context menus in the file browser pane provide commands to work with resource files. Most of the commands are used to create and maintain a list of links to your "favorite" files, which contain resources that you use frequently. Some commands are available from both menus.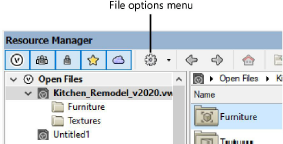 Right-click on the desired file or resource folder within a file to open the context menu. The commands available are determined by the type of file or folder selected; for example, Remove from Favorites is only available for files in the Favorites group.

Click to show/hide the commands.
Adding a favorite manually
To create a favorite manually (not through the Resource Manager):
1. Place the file that you want to display on the Favorites list (or a shortcut or alias that points to the file) in one of the following folders.
Favorites folder

Effect on Favorites lists

[User]\Libraries\Favorites

The file displays only in your Favorites group ([User] is the user data folder specified in your Vectorworks preferences); see Vectorworks preferences: User Folders tab

[Workgroup]\Libraries\Favorites

(Design Series required)

The file displays in the Favorites group of any user who has the workgroup folder set up in Vectorworks preferences; see Sharing custom content using workgroup folders
2. From the Resource Manager, right-click on the Favorites library heading and select Refresh.
Only files that are in your user Favorites folder can be removed with the commands in the Resource Manager. Files that were placed in a workgroup Favorites folder must be removed manually.
~~~~~~~~~~~~~~~~~~~~~~~~~