Manage Sequence dialog box
If you delete or duplicate tagged objects that were automatically numbered, you might need to adjust the tags. Edit a tagged object and renumber the tags as needed, using the Manage Sequence dialog box. See Editing tag data and Managing space numbers for details.
Click to show/hide the parameters.Click to show/hide the parameters.
Parameter

Description

Filter

All instances of the same tag style in the file display by default; if you want to renumber a specific subset of tags (for example, only the tags on the current design layer), select a filter to adjust the list accordingly.

Alternatively, select Criteria to open the Criteria dialog box, where you can specify custom criteria to filter the list; see The Criteria dialog box.

Ctr / Current Value / Result

Each object that uses the same tag is displayed in a list, which shows the object's current counter (Ctr) and Current Value. The Result column previews the list as it will be renumbered.

Duplicate and missing numbers or letters in the sequence are highlighted in red on the list.

Move Up/Down buttons

Select one or more items and click the buttons to move the items up or down the list. You can also drag selected items to a new position on the list.

Close Gaps

Select one or more missing items and click the button to remove the missing items from the list

Sequence Settings

Opens the Sequence Settings dialog box to set the Start Value, Increment, and Next Value to use for automatic numbering. To renumber all of the objects according to a certain pattern, click Renumber all, and select the pattern to use in the Renumber All dialog box.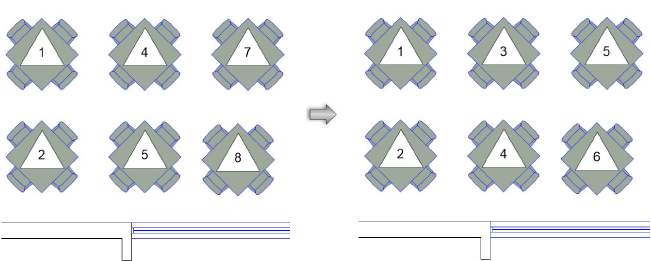 Renumbering a set of data tags