The Vectorworks Site Protection Server
Vectorworks Site Protection Server Overview
The Vectorworks Site Protection Server consists of two parts: the Reprise License Manager (RLM) server and the Independent Software Vendor (ISV) server. These work together while communicating via TCP/IP.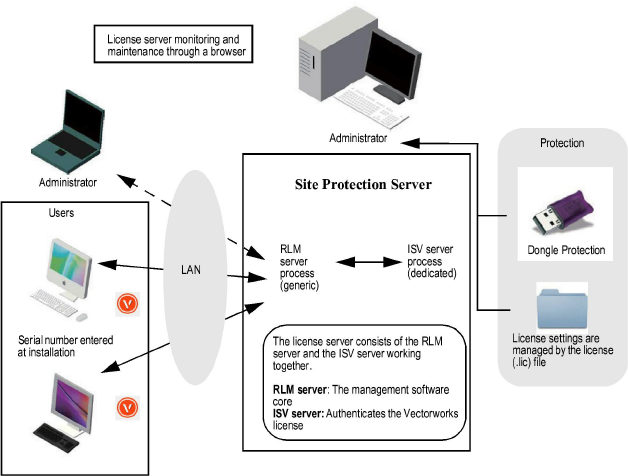 RLM Server
The RLM server is a server management program created by Reprise Software, Inc, an American license management software vendor. As the core of the license management software, it fulfills the following network management tasks.
● Communicates with the ISV server through the UDP port (5053) to coordinate operation.
● Communicates with the Vectorworks client through the TCP/IP port (5053) to verify startup.
● Communicates with the browser via the TCP/IP port (5054) for Vectorworks Site Protection Server management information display.
The RLM server has additional optional features that are not used with the Vectorworks Site Protection Server.
ISV Server
The ISV server manages the Vectorworks client licenses. It performs various functions, such as license usage verification, login management, and other optional functions. Vectorworks, Inc. is the Independent Software Vendor and is represented by "vektorwrx" in the various screens.
~~~~~~~~~~~~~~~~~~~~~~~~~